Elias Metal Studio & Waterbury Building
1129 Van Buren St NE
3 members open
Image: waterbury
Activities
Some of these activities are in person, and some are live online. If visiting in-person, be sure to wear a mask and observe social distancing.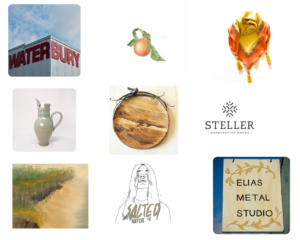 The Waterbury Building & Elias Metal Studio
Friday May 14 · Saturday May 15

Several artists connected with Waterbury will have their work on display outside along with live music and fresh baked goods from Fritz Pies in the East Parking lot. Please wear a mask if attending.
Music Line-up:
Friday 5-9pm
Human Error
Creeping Charlie
Miloe
Saturday 12-8pm
Greg Volker
Mary Elias and the Young Relics
Mirrorlands
Misdemeanors
Annie and the Bang Bang
Uncle Katy
Cost: Free
1121 Jackson St NE
Minneapolis, MN 55413
Legend
Art-A-Whirl: open at least one day