Waterbury Building
1121 Jackson St NE #121
7 members open
Image: waterbury
Art-A-Whirl
Waterbury Building is open Art-A-Whirl weekend on Friday & Saturday.
We will be in the EAST parking lot, accessible from around back behind the Waterbury Building.
Forged Metal, Ceramics and Live Music!
Cost: Free
Friday - May 20 · Saturday - May 21

Ceramic wheel throwing demonstration by Oliver Elias- 'Oliver the Potter'.
Music-Line-up
Friday
Saturday
12:00: Coconut Tree
12:30: Anya Ruiz – Zeya Ruiz
1:15: Good Diction
2:30: Greg Volker
3:30: The Silverteens
5:00: Tom,Dick and Harry
6:15 :The April Fools
7:30: Uncle Kat
Lisa Elias Metal Studio
1129 Van Buren St. N.E.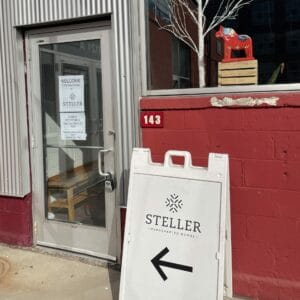 Steller Maker's Space
Cost: Free
Saturday - May 21
12-3pm
At Steller Handcrafted Goods we have the Steller Maker's Space that will have several handcraft options to explore and take home. Create Translucent Kite Paper Folded Stars, Tissue Modge Podge Candle Holders, and Leaf and Flower Rubbings.
#143 Waterbury Building
1121 Jackson St NE #121
Minneapolis, MN 55413
Legend
Art-A-Whirl: open at least one day