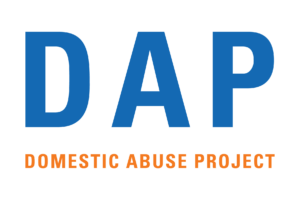 Domestic Abuse Project
Community / Non-Profit

Image: DAP High Res Logo Blue and Orange
Domestic Abuse Project (DAP) is a non-profit organization that provides services to families impacted by domestic violence. We serve victim survivors, child witnesses of domestic violence, and individuals who use violence in their relationships.
During Art-A-Whirl, DAP will be open for the community to walk through and learn more about what constitutes domestic abuse; tips and tools victims, individuals who use violence and family/friends/community members can use to foster and support healthy relationships; and resources available at DAP to support families struggling with violence at home.
While supplies last, we will be selling limited edition mugs and stickers with the theme of healing and safety. Proceeds will go towards supporting those who have experienced domestic violence.
We will be featuring art from the community whose work is inspired by domestic and sexual violence, other forms of oppression, and resiliency.
For more information about services offered at DAP or to donate, please visit us or go to our website: www.mndap.org