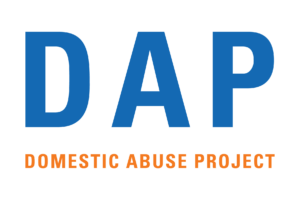 Domestic Abuse Project
Community / Non-Profit

Image: DAP High Res Logo Blue and Orange
Domestic Abuse Project (DAP) is a non-profit organization that provides services to families impacted by violence in the home. We serve victim survivors, child witnesses of domestic violence, and individuals who use violence in their relationships.
During Art-A-Whirl, DAP will be open for the community to walk through and learn more about what consistutes domestic abuse; tips and tools victims, individuals who use violence and family/friends/community members can use to foster and support healthy relationships; and resources available at DAP to support families struggling with violence at home.
For more information about services offered at DAP or to donate, please visit us or go to our website: www.mndap.org
Art-A-Whirl
Art-A-Whirl Main Page
Domestic Abuse Project is open on Friday, Saturday & Sunday of Art-A-Whirl weekend.