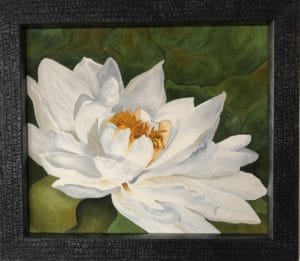 Vicki Underland-Rosow
Painting · Textiles
Image: Vicki Underland-Rosow
A creative life is not for the timid. Living life creatively means taking risks and being willing to fail. This is the story of my journey to become an artist.
When I saw a small announcement in the local paper for a new school opening 16 years ago, I had no idea that it would lead me around the world or that it would lead to a new career. The ad was for the Minnesota School of Botanical Art.   As a lifelong gardener, I was drawn to sign up.
I began by painting watercolors of plants near my Minneapolis home.
But then I went farther afield. In 2004, I went in search of a plant that only blooms three days a year. It was a long journey, including a transpacific flight, an overnight ferry, a rickety bus, a cottage infested with flying termites, and a two hour hike through a steaming hot jungle. My guides led me to the Rafflesia – an amazing plant that lives inside the root of a vine 362 days a year and then one day appears and, almost like magic, expands to three feet in diameter. My Rafflesia painting became my first piece of artwork exhibited in a show at the Bakken Museum.
My passion for flowers led me back to Asia. Next, I went with the late artist Dianne Aigaki to Tibet – a place I fell in love with. A local plant expert guided my way, allowing me to paint plants that grow on the highest plateau in the world.
Two years later, I joined a small group of botanical artists in pursuit of the illusive Blue Poppy that grows at 13,000 feet, again in Tibet. We slept in a huge black tent alongside a nomad family of five, one small dog, and 24 baby yaks. Out travels paid off – we found the blue poppy. The plant is beautifully blue but dangerous. Its stem, leaves, and flower are guarded by sturdy sharp thorns. With great care, I dug up one of the plants and spent countless hours painting it both in watercolors and later on silk.
As I grew as an artist, my love of luxurious silks began to influence my work (I've been a seamstress for my entire life). I became enamored with silk paintings done with a special dye (made specifically for silk). The colors are amazing, vibrant, and enchanting.
For the past four years I have painted mostly on silk with occasional forays back to watercolor.
I have had the great opportunity to take classes from two of the best silk painters in the country Karen Sistek in Port Angles, WA and Nancy Cawdrey in Big Fork, MT.
I have also studied with world-renowned botanical artists including Elaine Searle of Norfolk, England; Katie Lee of Connecticut; Alexandar (Sasha) Viazmensky of St Petersburg, Russia; John Pastoriza Pinol of Australia; and Kate Nessler of Arkansas.
I paint what I love and I hope that passion shows in my work. I invite you to spend some time with my painting and see if one calls to you.
Online Sales
Vicki Underland-Rosow takes online orders for pickup and shipping through this website.
Pickup Hours
By appointment only. Please indicate desired pickup times when you check out.
Commissions
Vicki Underland-Rosow takes commissions.
Online Store
FRAMED PAINTINGS
CLOTHING
WEAR A GARDEN
Using the designs of my original silk paintings these hoodies and tunics are stylish, comfortable and machine washable.
The scarves & camisoles are all original, one of a kind hand painted dye on silk.  The silk will feel like air and wear like iron.  Hand washable.
UNFRAMED PAINTINGS
Unframed original works of art.  
Dye on silk or watercolor.
GREETING CARDS
Greeting cards printed from dye on silk paintings.  $5 each or 5 for $20. You can choose any combination of of cards.
Kauai Chicken Card
POPPIES, POPPIES CARD
HERON CARD
WHITE TULIP CARD
MOTHER AND BABY

TULIP FROM DOWNUNDER
CARDS
$

20.00
external shop
Need help?
If you have a question about an order or a pickup, or about fulfillment options for an item, please contact the artist or gallery.
If you need help with this website or your customer account, or if you are an artist or gallery in need of support, please contact us.