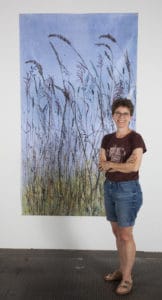 Linda Snouffer
Printmaking · Paper · Textiles
Image: Alley Grass ©Linda Snouffer, Botanical Printmaker
Linda Snouffer, Botanical Print-Maker
Please see all my images at my website:  LindaSnouffer.com
For inquiries, please call or text 651-528-3987, I am happy to arrange curbside drop off.                               Payment options:  Credit card via Square, check, cash 
___________________________________________________________
Many of my pieces can be recreated in reproductions:
20" x 16" photo reproduction —  matted/bagged $75
20" x 16" photo reproduction —  matted/framed $150
24" x 18" canvas reproduction —  $250
___________________________________________________________
Watch my Art-a-Whirl demo here: 
https://www.youtube.com/watch?v=eVd1yeQF3o0&feature=youtu.be
Botanical printmaking speaks to me and it is the heart of my landscape compositions:  apply ink to a leaf, lay the inky leaf on a prepared surface, press it onto the surface; remove the leaf to reveal the ink image left behind.
Though leaf printing is an uncomplicated process, the simplicity is made more complex by the assimilating other genres into my work.  Using techniques from fiber arts, water color, acrylic paint, and chalk pastel, I am able to create intricate, multifaceted landscapes on tissue paper, organza, and other textiles.
Grasses are used regularly in my work.  There are dozens of native and cultivar species, sizes ranging from a few inches to many feet tall. Striking structural variations in stalks, blades and seed tassels print with remarkable artistic versatility. They can be used to represent cattails, trees on a shoreline, or a wind-blown meadow.
The rich history and ecological importance of prairies beckon to be told in my art, opening the door to "prairie science meets prairie art." Exhibition artist talks are about prairie science as much as my process.
The short Minnesota growing season means time is limited to print with green plants.  Winter studio time requires ingenuity and led to developing new printmaking techniques.  Fiber arts adaptations, chalk pastel enhancements, and acrylic over-painting prints or to give texture and definition to winter prints. In addition, much of winter studio time is spent infusing pigments into papers and fabrics using fiber dyes, water color, and chalk pastel; by spring, I have a large inventory of prepared surfaces ready for printing.
LindaSnouffer.com
651-528-3987
Other YouTube Videos:
What is Botanical Printmaking:                                              https://www.youtube.com/watch?v=6EW6DZqpRP4&t=36s
Prairie Images:                                                                    https://www.youtube.com/watch?v=XhDPezsKTZA&t=79s
Art-A-Whirl Main Page
Linda Snouffer is open on Friday, Saturday & Sunday of Art-A-Whirl weekend.
Please visit me at the forNOW Gallery in NKB #139, which I share with five other artists: Steve Capiz, Al Porter, Corinne Johnson, Eric Ketelsen, & Kevin Komadina.
Art that is exhibited is available for immediate purchase and will be packaged for you to take home.
If you are interested in something on my website, please text me with a request to bring those images to the forNOW Gallery on the next day of Art-a-Whirl, so you can view them in person.  Some reproductions are pre-made and can be purchased on site; others are made as ordered and may take up to three weeks for delivery.
Plant printing demos will be held 12:30-1:30 Saturday and Sunday, with free demo cards to take home.
Covid safety at the forNOW Gallery includes:  all artists in the gallery have completed Covid vaccinations, please follow the posted rules in the Northrup King Building.  Masks are respected, not required.
Payment options include: Credit card using Square (or Square Invoicing), cash, personal check (with ID and phone number)
Online Sales
Linda Snouffer is setting up their online store. Check back or email/call for purchase information.
Commissions
Linda Snouffer takes commissions.
Need help?
If you have a question about an order or a pickup, or about fulfillment options for an item, please contact the artist or gallery.
If you need help with this website or your customer account, or if you are an artist or gallery in need of support, please contact us.