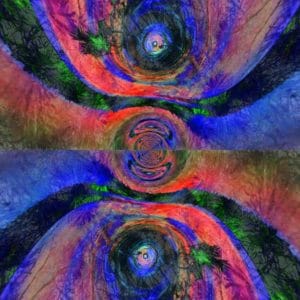 Candy Kuehn
Candy Kuehn Studio
Digital · Textiles · Painting
Image: Passing;There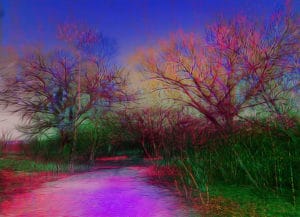 I am a hyper inventive geek, exploring and abusing artistic mediums, with the deepest knowledge in fibers, dyes, iPhone apps with photography. I fuse color and texture into meaning. I rambunctiously play in imagery and motion using anything I can find. I use fiber content with its drape; dyes and paints with their specific colors; and apps in the iPhone for their meaning. I am curious and cross-sensed. I see music's patterns and shapes; I touch between spaces and time; I smell emotion. Order is a glommed ball where I need story, or tree roots that unravel it. Only then, I see its pattern in motion. I  show what it is I see, hear and sense with fiber content's motion, with luminescent color, and this especially in the Iphone's photo apps. I want everybody to smell what I see, and taste what I know.
Physics, now, has the words and theories that I've sensed my entire life – multi-layered universes, dark matter, and gravitational waves that traverse as branches, leaves, as neurons in the brain, or how dust shapes nebulas above the clothes dryer. These concepts, and their shapes translate what I see into working reality.
My favorite art works are the cave paintings, shaman works across many cultures, and over 6000 years old pieces in China, Old Europe, Africa, the Americas. Marc Chagall and Fachang Muqi (Chinese 13th century) are my favorite painters. Erte, Zandra Rhodes, Issey Miyake and Alexander McQueen are my wearable artists influences. The images from Hubble, Chandra X-ray, and Spitzer space telescopes thrill me beyond wonder. Leonardo DaVInci is one of my many favorite scientists.
I feel my work is closer to Outsider Art in its unspoken spiritual content. Our current culture's values are destructive to the  natural world, it's balance. Nature is a cooperative in the "circle of life". Death and growth are a whole, a flow, a movement in harmony. Grace and Beauty can be chosen at each breath. I want my work as healing grace, a natural force , a mirror of what can be.
All my digital prints can be negotiated ordered in many sizes and papers. Either I or Artist Resource Group will do the printing. You also may order my fabrics printed at Spoonflower.com. I usually do over 40″ repeats….body size repeats..I also have work at Society6.com .
Online Sales
Candy Kuehn takes online orders for pickup and shipping through this website.
Pickup Hours
By appointment only. Please indicate desired pickup times when you check out.
Commissions
Candy Kuehn takes commissions.
Online Store
Framed Prints, shipping can be negotiated.
These Archival Printed Digital prints are framed in either black or maple wood frames. If you just want the print, see below for prints prices.
Dye Sublimation printed metal tiles, shipping can be negotiated.
These are all glossy printed on metal tiles , ready to hang. This printing method of my work has a tiger-eye rock effect.
Hats, shipping can be negotiated.
Upcycled hats, enjoying their own reinvention!!!
Just Archivally printed prints, to be picked up or shipping can be negotiated.
These are just prints, plain, no mats, printed in papers specified. I can print any prints in my gallery, from Instagram, or Adobe Behance portfolio, in many sizes and papers. The 8.5″ x 11″ prints, if shipped, flat with padding and backing. All other larger prints are sent in tubes with some packing. I use the United States Postal Service. If picked up, curb service, all prints are in flat secure cardboard packaging with Artwork sized bags.service, all prints are in flat secure cardboard packaging with Artwork sized bags.
All Is Coming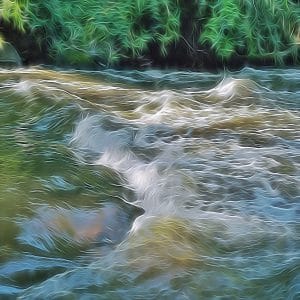 Turbulence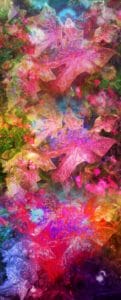 Magenta Beauty Leaves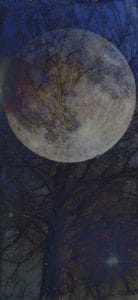 Moon Strikes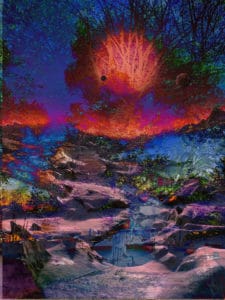 New Lands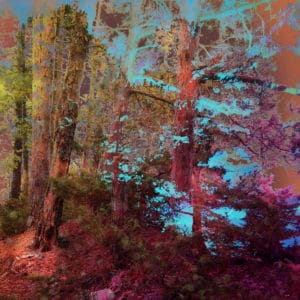 Sky Finds Forest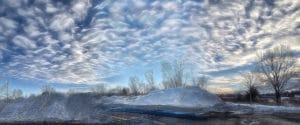 Winter in Home Depot Parking Lot

Woods River Weeds
Need help?
If you have a question about an order or a pickup, or about fulfillment options for an item, please contact the artist or gallery.
If you need help with this website or your customer account, or if you are an artist or gallery in need of support, please contact us.