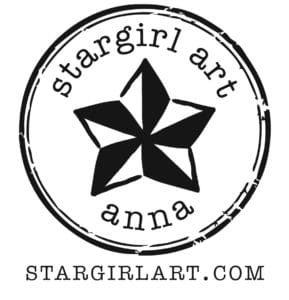 Anna: Stargirl Art
Anna Palmquist
Drawing · Photography · Painting
Image: Stargirl Art: Anna
About Anna
Anna Palmquist of Stargirl Art is a dynamic mixed media artist who creates extraordinary works of art using an array of materials including watercolor, pen, and discarded objects. Anna's creative process is fueled by her passion for exploring and discovering captivating elements from her extensive collection of books, objects, and online resources. She uses her unique ability to bring together unlikely combinations of elements, resulting in striking and thought-provoking pieces that captivate and inspire viewers. Anna is not just an artist, but also a talented photographer and writer, having earned an MFA in Creative Writing from Hamline University. Anna's remarkable artistic vision and unwavering dedication to her craft have earned her a well-deserved place in the community of NE Minneapolis artists.
Commissions
Anna is interested in making something for you! A custom moon or custom map? Get in touch!
Online Sales
Anna: Stargirl Art takes online orders for pickup and shipping through this website.
Pickup Hours
By appointment only. Please indicate desired pickup times when you check out.
Commissions
Anna: Stargirl Art takes commissions.
Online Store
Watercolor Moons
40 Moon Plates, 6×6, original watercolor paintings with pen drawings and typewriter text.
About My MOON Field Series
As a young woman in the '90's in small town America, I enjoyed studying math and science in high school. I liked the design of it and that there was a degree of certainty. But I wasn't automatically brilliant at it like my male classmates, so I wasn't encouraged. I assumed I couldn't learn it and that theres was no place for me. After all, there were no women teaching those topics in my school and no pictures of famous women mathematicians or scientists on the wall or in my textbooks.
Now, more women are being recognized for their contributions to math and science. Dorothy Johnson Vaughan, Maryam Mirzakhani, and so many more. And as I learn their stories, I feel this weight, this "what if." How could my story have been different if I had known theirs? It wasn't that ALL women were left out of these fields, but that they were left out of the history books. With that background in mind, these pieces attempt to reclaim math and science.
The series began with the premise of using all 120 water-color pencils in my Faber-Castell set, a roll of duct tape, and an obsession with John James Audubon's bird drawings. I started with a circle shape from tracing the tape roll. The circles turned into colorful moons. From there, a character appeared to me, a scientist in the distant future with advanced technology, allowing her to see farther into space than we can now, documenting all these moons like Audubon documented his birds.
The little drawings and markings are her scientific notes as she discovers moon after moon. Because the moons can only be seen from certain locations, she travels to 40 countries to get different perspectives of the sky. Through her travels, she learns all the different ways to say moon. She learns that while every people, nation, and group have a different word for moon, we all, no matter where we live, what God we serve, what type of government we live under, we all still look up at the same moon every night with the same joy, longing, hope, loneliness, love, or loss.
"I note the obvious differences
between each sort and type,
but we are more alike, my friends,
than we are unalike.
We are more alike, my friends,
than we are unalike.
We are more alike, my friends,
than we are unalike."
-Maya Angelou
"Human Family"
Need help?
If you have a question about an order or a pickup, or about fulfillment options for an item, please contact the artist or gallery.
If you need help with this website or your customer account, or if you are an artist or gallery in need of support, please contact us.