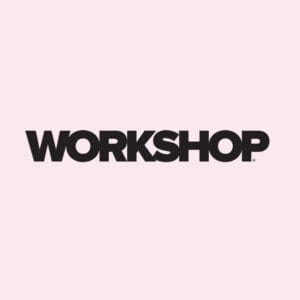 WORKSHOP
Local Business

Image: WORKSHOP logo
Art-A-Whirl Main Page
WORKSHOP is open on Friday, Saturday & Sunday of Art-A-Whirl weekend.
The Print Shop at WORKSHOP®: Join us at Art-A-Whirl 2022
Art-A-WhirlⓇ is the largest open studio tour in the country, which happens annually throughout Northeast Minneapolis the third weekend of May. We're thrilled to announce that for Art-A-Whirl 2022, we are dedicating our studio space to artists specializing in printmaking, design, illustration and much more.
For Art-A-Whirl weekend, WORKSHOP® is transforming to The Print Shop: a space for commercial-leaning art. We're celebrating the type of art that shows up on your walls, in your closet, or as a gift to someone special. Bold colors, pattern, typography are all welcome here. Posters, buttons, zines, patches, stickers, mugs, shirts, books, prints, cards…these items – and more – can all be found at The Print Shop!
Our studio at 1300 Quincy St – located directly across from Art-A-Whirl headquarters and neighboring Able, Indeed and Centro, is at the center of the Art-A-Whirl planned activities. We're also partnering with our nextdoor neighbors at Q.Arma Studio to host musicians on an outdoor stage throughout the weekend – including WORKSHOP® team member, Alyse Carbonell.
The talented artists we will be hosting and celebrating over the weekend (in alphabetical order) include:
Amy Poburka – @amy.poburka
WORKSHOP® team member
Amy is a designer and illustrator living in Minneapolis, MN. She uses her background in Architecture to create buoyant city scenes full of real, and occasionally imagined, happenings. She's in love with printmaking and many of her illustrations borrow techniques from screenprinting and risography.
Anna Holtman
Anna Holtman is an artist, graphic designer, and art educator based in Minneapolis, Minnesota. From 2014 – 2022, she worked as a full-time graphic designer. As of February 2022, she is now teaching Art in a local middle school. In her free time, she paints, throws pottery in her garage, and makes crafts with her roommates, friends, and family.
Ashley Hay Design – @ashleyhaydesign
Witty accessories based on pop culture, cannabis, and the occult.
Dana Kingery Design – @dana.kingery
Dana Kingery is a designer and illustrator living in Saint Paul. She specializes in light-hearted, bright, and textured artwork. Loving to experiment, she enjoys trying new styles and ways of printing—aiming to step away from a screen as much as possible. You can often find her exploring local parks or lounging at home with her cat, June.
Dana Koeher – @danakristeen
Dana Koehler is a local designer specializing in illustration and graphic design. She holds a Master of Fine Arts from the Minneapolis College of Art and Design, and has worked as a designer for creative institutions, independent art galleries and nonprofits throughout the Twin Cities since 2015.
Devan Bridson – @devanbridson
Devan Bridson is an artist and illustrator based out of the uptown area of Minneapolis. She takes inspiration from the heavy brushstrokes found in traditional Sumi-e paintings of east Asian cultures. You'll also see some characters and more animated worlds that she creates from her own observations of nature blended with modern-day animation styles. Devan tends to rotate from painting, inking, and digital work in that order throughout the year. You can also find her work at the Minneapolis Farmers Market Annex off of Lyndale.
Finley Hanson – @finwren_art
Finley Hanson is a 13-year-old artist from Stillwater, Minnesota. She enjoys painting a variety of subjects from landscapes to human figures. In addition to painting, Finley enjoys fiber arts, fashion, and ceramics.
Genessis Lopez – @brown_bruja
Genessis Lopez is a Mexican artist living in North Minneapolis. She paints and illustrates plants and flowers to create colorful clusters of bliss. Her work centers around nature and she tries to capture the joy and ease she feels while in it.  Genessis spent a chunk of her childhood in Mexico, growing with the plants and flowers in her grandmother's garden. Most of her artwork reflects the colors, feelings and emotions that she carries from those beautiful memories, as well as the new memories she creates while experiencing the natural world as an adult.
WORKSHOP® team member
Jenica Pospisil is a Twin Cities-based designer, specializing in illustration and graphic design.
Paula Rojas – @PaulaRojasArt
WORKSHOP® team member
"Landscapes", by Paula Rojas, is a collection of illustrations that observe and loosely capture the space and form of our natural environment.
Studio OKOK – @studioOKOK
LKbachman has been making art in one way or another her whole life. She enjoys using clay as a canvas and is influenced by vintage glassware and animal themes. Her art is unique and ever evolving, keeping life interesting!
Studio on Fire – @StudioOnFire
Studio on Fire is a staff of skilled and hardworking people dedicated to the craft of quality printing. Their daily mission is to create work featuring exceptional custom design work, letterpress printing, foil stamping, premium packaging, and specialty finishing methods. Since 1999, Studio on Fire's collaborations with clients around the world make their work distinctive to see and delightful to touch. They love making things.
The Retro Collective – @theretrocollective
The Retro Collective is owned by Erin Connor, a jewelry and accessory artist based in the Twin Cities, MN. Since opening The Retro Collective, Erin has enjoyed perfecting her crafts and creating products that put a smile on her customers' faces. In her free time, she enjoys crocheting, painting, hanging out with her goofball dog, appreciating local art, thrifting/antiquing and more!
Viska is an environmentally-focused carryables brand sourcing materials as organically, locally, and sustainably as possible with a deep commitment to transparency and growth. Each item is patterned, waxed, cut, sewn and riveted in their small South Minneapolis home.
Curioso Coffee will also be onsite Saturday and Sunday serving locally roasted craft coffee drinks to order.
Join the festivities May 20-22, 2022 – and be sure to come by The Print Shop at WORKSHOP®, open during the normal Art-A-Whirl hours at 1300 Quincy Ave, to catch these incredible artists and local musicians.