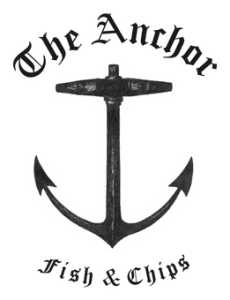 The Anchor Fish & Chips
Food

Image: The Anchor Fish & Chips
The Anchor Fish & Chips; ten years serving up the real deal Fish & Chips. Irish and Local beers served along with other Authentic Irish Food Favorites.
We are open for online ordering and pick-up only Art-A-Whirl Weekend!
Friday, May 14, 2021: 4:00pm – 9:00pm
Saturday, May 15, 2021: 12:00pm – 9:00pm
Sunday, May 16, 2021: 12:00pm – 8:00pm
Join The Anchor Rewards Program Today!
​NEW ANCHOR APP AVAILABLE TODAY TO DOWNLOAD FOR ONLINE ORDERING!!!! Get $5 REWARD OFF YOUR NEXT ORDER FOR DOWNLOADING THE ANCHOR APP. (This download reward is available until Nov 30th)
​CHECK OUT THE LOYALTY REWARD PROGRAM ON THE ANCHOR APP.  GET $5 OFF ANY ORDER ONCE YOU REACH 50 POINTS. (One dollar spent = 1 point earned)
​To redeem the $5 reward: At check-out there is a button that says 'add reward' right above the 'choose payment' option. Click 'add reward' to redeem the reward and you will see the change to your subtotal. This reward expires in 14 days from date of download.​