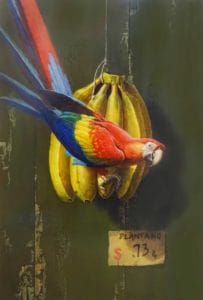 Studio Pintura
Professional Gallery
4 experiences
Image: c. Mark E. Marcuson
STUDIO PINTURA • Fine Art Studios and Gallery with an emphasis on quality contemporary representational work.
In the Gallery Now- Opens Friday May 14 for Extended Retail Hours- A strong collection of works by some of our favorite artists.
OPEN HOURS: During the weekend of Art-a-Whirl: Friday May 14, noon-8:00, Saturday May 15 noon-8:00, Sunday May 16 noon-5:00.
General open hours: Saturday Afternoon 12:00-4:00, all Northrup King open studio events, and many weekday afternoons and evenings. Call or text to make sure we are in!
Figure and Sculpture Groups: Our Sculpture Club meets Tuesday evenings in 4-week sessions to sculpt from the live model. Figure Drawing/Painting is currently suspended, but we hope to reopen soon. Email us to request specifics!
Professional Artists' Workshops: We host workshops in painting and sculpture presented by nationally known artists, some of them local, and some brought in from across the country. Check the website for recent and upcoming offerings.
The Northlight Studio: For emerging representational painters who want to deepen their professional skills with the opportunity for feedback and/or critiques,  to display work in a professional manner,  participation in the figure and portrait study groups, and thrive in a supportive atmosphere. ACCEPTING INQUIRIES AND APPLICATIONS to be a part of this growthful community.
Fine Artists' Materials at Studio Pintura:
Rosemary & Co Artists Brushes: We are proud to be a U.S. Distributor of Rosemary Brushes.
Sculpture Supplies: Chavant Clay and Glyptic Sculpture Tools.
Raymar Panels and Carriers
To find out more, visit StudioPintura.com, and like/follow us on Facebook.
Founded by Armando Gutierrez G. and Lois Rhomberg
(651) 270-8983  •  (612) 801-1053  info.studiopintura@gmail.com
Online Sales
Studio Pintura has an external system for taking orders, separate from this website.
Commissions
Studio Pintura takes commissions.
Online Store
Studio Pintura has an external system for taking orders, separate from this website.