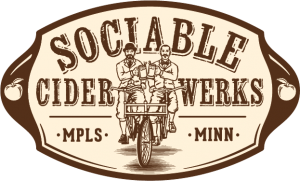 Sociable Cider Werks
Beverage · Sponsor
1 experience
Image: Sociable Cider Werks
Sociable Cider Werks brews freshly-pressed apples with a variety of fruits, grains, hops, & spices.
The result is a lineup of innovative libations that are best when shared with a friend. Really, the whole story of Sociable is about sharing a pint with a friend. Long-time compatriots and garage brewing buddies Jim & Wade couldn't find the kind of dry, bubbly ciders they wanted to drink. So in 2013 they struck out on their own. The rest, as they say, is history.
The cidery and taproom is located in NE Minneapolis. You can visit during taproom hours, taste us on draft at your favorite watering hole, or pick us up off the shelf at your local package store.