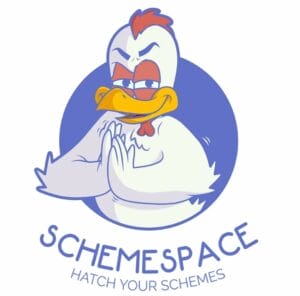 Schemespace Community Makerspace
Professional Gallery

Image: Logo: a scheming chicken with the words "Schemespace" and "Hatch Your Schemes"
Schemespace Community Makerspace is a small makerspace and learning center focused mainly on wearable arts and fashion design, but occasionally hosts other creative events for both adults and children. Our classes include Young Fashion Designers (ages 9-12) Teen Fashion designers (ages 12-18), Sewing 101, Pattern Drafting, Stitch & Sip and, Paint & Sip nights, Corsetmaking, Sewing for Performing Arts, Quilting, Open Sewing Workshop, and more. We are staffed by a licensed educator with teaching experience from kindergarten through University level. We offer day camps, classes, events, and tutoring sessions in academic enrichment, often serving homeschool families. Our Mad Science Department offers hands-on learning projects such as the Egg Drop Challenge and Future Surgeons Dissection Labs. We love proving to kids that math actually is fun and useful for things like design. We are also prepared to serve the need for affordable k-12 weekday learning in case of emergency school closings for pandemic outbreaks, teacher strikes, etc.
Anyone can teach at Schemespace! Ask Heidi how you can submit a course proposal for a class you'd like to teach. We believe that learning, making, and teaching are essential parts of a complete human experience. There's nothing sacred about teaching (meaning you don't need credentials to teach here. Absolutely NOT implying that k-12 classroom teachers aren't actual superheroes who should be sainted). If you have a skill you think people would want to learn, you can design a class, help us market it, and you'll earn 65% of the course fees (Schemespace keeps the rest for rent).
Also ask about low-cost daily space rental for things like community meetings, pop-up events, study groups, group projects, etc.
Art-A-Whirl Main Page
Schemespace Community Makerspace is open on Friday, Saturday & Sunday of Art-A-Whirl weekend.
Schemespace is a small fashion design studio and makerspace for various other creative works. Most of our classes so far are in garment construction and patternmaking. We're open to guest artists displaying pieces of Fiber Arts/Wearable Art/Fashion for a small fee, or free for students of Schemespace.
On Friday from 4pm-9pm, we're hosting an open sewing workshop/BYOB Stitch & Sip. Community members are encouraged to bring their wearable works-in-progress or create something here (we will have a small quick project, but more ambitious makers may start a larger individual project, too!
On Saturday evening from 6:30pm-9pm we'll have an outdoor fashion show in the back yard where all our Schemers can show their work on the runway. Attendance is open to the public for a suggested donation. Participation on the runway is exclusive to people who've made garments here at Schemespace. Designers/wearable artists who'd like to participate in the show may sign up for a class or paid open workshop before Art-A-Whirl and complete at least a significant portion of the work here. All ages are welcome. Call or Text Heidi for details.
Sunday Day we'll do a free open workshop (exact time time TBA), and in the evening we'll have a Watercolor Paint & Sip (BYOB, tickets and details TBA, please call, text, or email Heidi to get on the list for details as they're nailed down!)
Online Sales
Schemespace Community Makerspace does not currently take online orders. Email or call for purchase information.