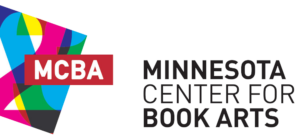 Minnesota Center for Book Arts
Community / Non-Profit

Image: MCBA-newlogo-wide-cmyknumbers-web_transparent
A respected and dedicated champion of the field, Minnesota Center for Book Arts is the largest and most comprehensive center of its kind. We celebrate the book as a dynamic contemporary art form that takes many shapes.
MCBA hosts virtual and in-person workshops and exhibitions, operates a charming book arts-themed store, and provides opportunities for artists of all abilities to learn and create.
STUDIOS
Our studios are a haven for hobbyists and professional artists alike who practice bookbinding, letterpress printing, papermaking, paper marbling, screen printing, and related arts. At 12,000 square feet, MCBA is the largest space dedicated to book arts in the nation and maintains one of the most impressive collections of printing presses in the world (17 and counting!). Providing studio access is central to MCBA's mission. Here are several ways our artist community can gain safe access to our space.
QUICK LINKS
Check out our online shop
What are book arts?
Peruse our virtual and in-person workshops
Current exhibitions
Virtual exhibitions
Upcoming exhibitions & events
Learn more about our studios and equipment
Check out MCBA in the press
Sign up for our e-newsletter
Support MCBA