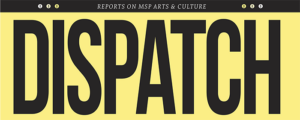 Dispatch
Local Business · Sponsor

Image: DISPATCH-MASTHEAD-Header
20% off for ALL NEMAA members!
Tap into the Minneapolis and St. Paul Arts and Culture scene with the DISPATCH!
Since 2008, Secrets of the City has delivered Arts & Culture information to dedicated MPLS + STPL readers. An offshoot of The Rake Magazine, Secrets went through many different iterations and is now DISPATCH, an Arts & Culture digest that includes a relaunched website and print edition alongside the long-running newsletter.
Recent advertisers and sponsors have included First Avenue, Live Nation, CanCan Wonderland, The Walker Art Center, Saint Paul Brewing, The Dakota Jazz Club, Minnesota Music Coalition, Mortimer's Bar, Weisman Art Museum, and many more!
DISPATCH's print is rapidly expanding! By 2023 it will be running twice a month with 10,000 issues (20K total!) at over 500+ locations throughout Minneapolis and St. Paul. Readers receive events – music, art openings, book readings, beer release, and much more – at small and undercovered venues around town. Also included are tips on upcoming happenings, tips and tricks for navigating the cities, and other lifestyle information.
Interested? Let's talk!
Kris Burg
(612) 816-8756