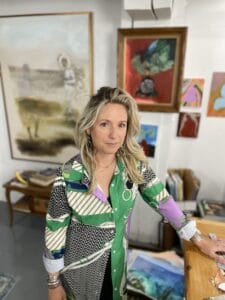 Toni Gallo Art
Toni Gallo
Painting · Paper
Image: IMG_5073
Toni Gallo is a painter and considers her studio and life practice space. Practice in retreating inward, exploring essence, developing the habit of awareness, alignment with here, beyond further. Space for rambling articulations regarding infinite potential in being through meditative painting practices exploring consciousness and the connective material unifying our existence.
The Practice of Creating Methods to Abandon
"a tension exists between wildness and discipline." – Matthew Fox
The Importance of Practice as Being the Purpose
In making paintings, Gallo's practice is rooted in itself, that of balancing the endeavor with direction and freedom, funneled into a connection with creativity's power, where originality peaks through. This quality as defined by the pure energy of origin. Its revelation manifests through unique expression. In paying close attention to self, perhaps you remember the language of your internal guide, reacquaint yourself with intuition's validity and move honoring your essence in order to play your part. The conceptual undertone of the art is consciousness and manifests in blended figurative landscape abstractions speckled with unregulated patterns.
In the heart of a painting the bold act is in letting go of all the methods; diving in, losing the seriousness of hesitation, and making a case to jump. Giving enough sincere authority to act out unique presence and to not have settled on an outcome.
With an undulating patchwork of methods to work through she is creating dimensional experiences with paintings having extensions into their environments.
The essence of the art defines itself by the practice. Using an assemblage of material intuitively and thoughtfully connected through patterns and abstract marks she is suggesting what is unseen, holding us up together and offering vibrancy. This expression of the spaces between; the fascia of the universe, defines us as a whole organism infinitely connected. Nothing lasts nor ceases to exist, so is an endless reassembly of matter, like Gallo's paintings. Each one a different path to the same place expressing captured experiences of connectivity as the eternal present unrolls in its nonlinear nature, connected to past, future and the in between.
Being, Changing, Orienting Toward the Impulsiveness of Creativity
Gallo is responding to impulses to make paintings, that thoroughly engage in a practice that will potentially uncover an aesthetic declaration of the expression of consciousness in that moment's existence. She synchronizes the experience and there is sincerity.
Online Sales
Toni Gallo Art has an external system for taking orders, separate from this website.
Commissions
Toni Gallo Art takes commissions.
Online Store
Toni Gallo Art has an external system for taking orders, separate from this website.
Need help?
If you have a question about an order or a pickup, or about fulfillment options for an item, please contact the artist or gallery.
If you need help with this website or your customer account, or if you are an artist or gallery in need of support, please contact us.