Sue Christensen
Sideshow Gallery @ Minnesota State Fair
Clay · Painting
Image: IMG_3738r
Welcome to Art-A-Whirl 2021!  I will be selling art both online and in person this year.  You can shop online here at Curbside Marketplace with the curbside pickup at my tent at Sociable Cider Werks.  I will be selling pottery in person under the tent during regular Art-A-Whirl hours. There is also a show on my most recent oil paintings on the walls of the taproom.
Art-A-Whirl Hours
Friday May 14:  5-9 PM.      Saturday May 15:  12-8 PM.      Sunday May 16:  12-5 PM.
Please text or email me if you have any questions.  Thank you for visiting my marketplace!    
Sue Christensen
612-382-5948 (texts preferred)
sue@namelesswildness.com
Sideshow Gallery at Minnesota State Fair on Facebook
Online Sales
Sue Christensen takes online orders for pickup through this website.
Loading Hours...
Commissions
Sue Christensen takes commissions.
Online Store
Minnesota State Fair Themed Paintings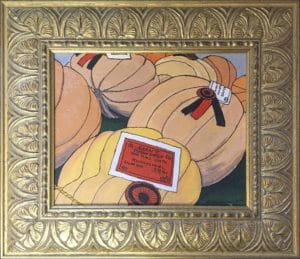 Giant Pumpkin Contest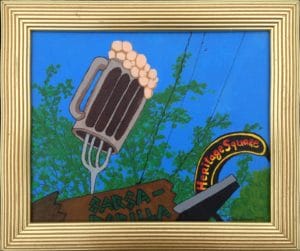 Sarsaparilla
Hand Built Patchwork Bowls
These bowls are handbuilt from white stoneware clay, hand glazed and fired to cone 5 or 6.   I press the individual slabs of clay against a variety of found objects or molds I've made of "found textures" and form them into bowls using dome shaped plaster molds.
Porcelain Pints
These pieces can be used as drinking glasses or flower vases.   They are based on the classic pint glass shape,  slip cast in porcelain, hand painted with glaze and fired to cone 5 or 6.  The colors and weights vary widely.  Personally, I like the lighter ones for drinking because they are thinner and hold more liquid, and the heavier ones for displaying flowers because they make the arrangement bottom heavy and are less likely to break if knocked over.
Leaf Dishes
Herculon Rising: Burning Furniture Series
First I paint them, then I set them on fire.  It never gets old.  Own the thrill of unauthorized fire without the risks of real life pyromania!
My Church Homes Series
I had leftover magenta, orange and green paint this winter and an hour left in my work day.  Recently we had visited our friends' new home, a deconsecrated Presbyterian church.  I painted a wild-colored little picture of it and I loved it so much that I decided to paint every church I have ever called home, from childhood, through Pentecostalism into adulthood and… deconsecration.  Or deconstruction, as some would say.  I made First Baptist big because it's such a glorious building and I wanted to be able to paint in every stone block.  Later I learned (from the owners of the ex-church, who are painters) that this style is called Fauvist, from the French word Fauve, meaning wild beast.  Perfect.
Seed Series
Corn
Every year in the Crop Arts room at the state fair, I admire the dried corn while I'm waiting in line to see the seed art.  Last years I took pictures so I could make these paintings.
Beans
A friend gave me seeds that grew bright red-orange flowers and huge, delicious purple and grey variegated beans.  One of the plants produced peach flowers and cream and brown beans.  Each year I pick out the best beans to save as seed and I make chili with the rest.  Last fall they were so beautiful that I had to paint them, amplifying the colors ever so slightly.
Teeth Series
This is my newest project, oil paintings of drastically oversized teeth in fanciful colors.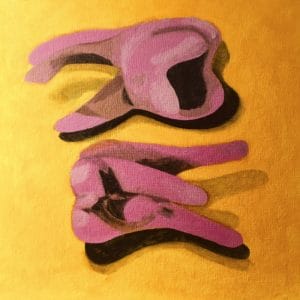 Magenta Molars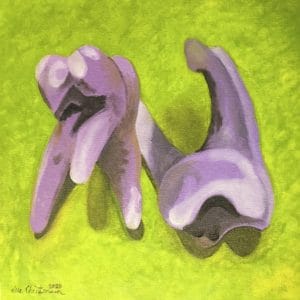 Lavender Molars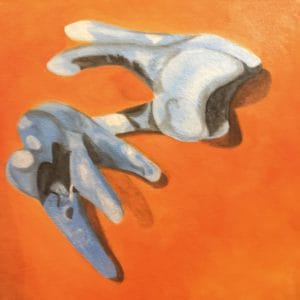 Sky Blue Molars
Grafitti Train Series
Urban Saw Series
The idea came to me when I cleaned out the basement of a house where a carpenter had lived and got to keep a bunch of rusty saws.  I like to paint them with scenes far removed from the country scenes usually depicted on saw blades; things like midways and urban scenes.
Sunbelt Series (Aerial Lifts)
Piggy Banks
Slip cast porcelain piggy banks based on sculpted, carved and stamped original pigs.   Rubber plug in base for coin removal.
Need help?
If you have a question about an order or a pickup, or about fulfillment options for an item, please contact the artist or gallery.
If you need help with this website or your customer account, or if you are an artist or gallery in need of support, please contact us.