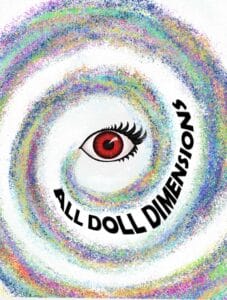 All Doll Dimensions
Kelly Hookham
Clay · Digital · Sculpture
For as long as I can remember, I have been doodling, building, or creating but I shied away from being called an artist. I just didn't think my art was worth more than a hobby; and as much as I enjoyed making things, I didn't feel like it was the "right" path. Even though art therapy has saved my life during different major depressive episodes since I was a kid, it seemed like a luxury. I whole heartedly believed I was not worthy of that luxury for many years. I was lucky to have people that supported my artwork, and encouraged me to keep practicing. However, sometimes the way they said artist felt like a dirty word. Like it somehow made me less than those with "real" careers, or that my art wasn't good enough to outweigh the risk. So I became a business woman and felt uncomfortable whenever someone called me an artist.
No, I wasn't an artist. I just enjoyed making art, because there were no limits or walls or rules. It was freedom. Art has been and always will be my coping mechanism. When I stop listening to the excited chatter of my inner artist my mind gets dark. After years of therapy, I have become more protective of my inner artist. Protecting her from judgements so that she can play. Reminding her that the art is her expression; it's awesome that others want to be a part of it, but they don't get to feed any of those nasty shame demons. I set up play dates to work with other artists and find a safe space for crafting. No "starving artist" or "flaky creative type" stereotypes cross my boundaries. Here is a safe place to explore for me and any other artist who needs it.  It took learning boundaries for me to be able to create dolls like "Envy", who highlights so much of my vulnerability. It took reinforcing those boundaries to be sure that abusive people did not come back into my life, and that I didn't feel endless shame for taking time off from corporate life to explore my art when I had the opportunity.
The odd thing was that the more I allowed my authentic self, beyond the dedicated dog mom, continuous improvement, and mindfulness, to be seen the more colorful my outside appearance became. I felt like I was shedding some of my trauma armor when I got my first sleeve tattoo. The tattoo covered up my self harm scars in a spiritual way that was anything but shameful. Everyday it reminds of me to balance my chakras and be thankful for the universe and mother earth. It reminds me that I don't need to hide any part of me that might not be "mainstream". Check out Jeannie's Instagram for more of her awesome tattoos! (https://www.instagram.com/jeanniebeanstattoo/)
I now proudly say I am an artist! I have created my own universe with four main dimensions/collections. Each one highlighting a piece of my soul. One to focus on mental health and supporting creativity in others, another for the creepy cute dolls I find comfort in, one filled with fantasy and mindfulness, and on to focus on Diversity and Inclusion donating back to the communities that inspired the art.
Online Sales
All Doll Dimensions has an external system for taking orders, separate from this website.
Commissions
All Doll Dimensions takes commissions.
Online Store
All Doll Dimensions has an external system for taking orders, separate from this website.
Need help?
If you have a question about an order or a pickup, or about fulfillment options for an item, please contact the artist or gallery.
If you need help with this website or your customer account, or if you are an artist or gallery in need of support, please contact us.