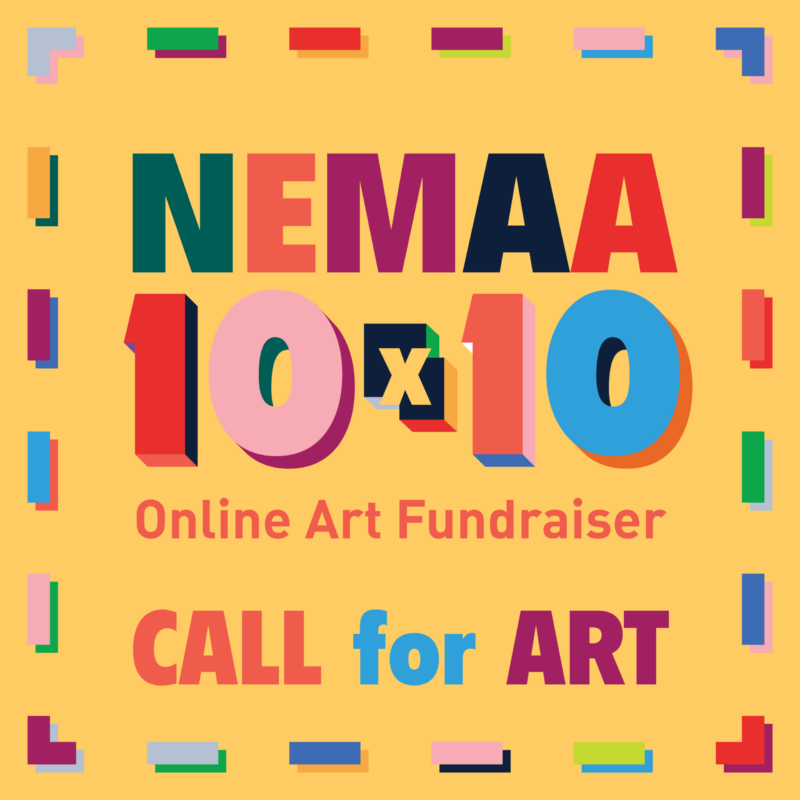 This virtual event is not only a fundraiser for NEMAA but an introduction to original art collecting at an affordable price point for new buyers and an excellent marketing and sales opportunity for participating NEMAA artists. We encourage artists to play and create something that brings joy! 
Keeping things fun and mysterious, all artwork will be initially displayed anonymously and available for purchase for $45. Once a piece is purchased, it will be marked "sold," and the artist's name and link to their NEMAA shop will appear, directing viewers that like the work to explore and potentially purchase more of the artist's work from their own site. Artists will be notified by email in real-time as their art sells and receive buyer contact information.
The NEMAA 10×10 Online Shop will launch thursday, September 21, 2023 at 5pm and be open for one week.
Artist Submission Guidelines
Open to all NEMAA members.
All mediums,

excluding installations or video/media work

.
For 2D & 3D work that is 10×10 inches or fits within a 10x10x10-inch parameter.
No limit amount of donations.

Use one form per each artwork submission.

Artwork does not need to be mounted or framed, but it needs to be dry.

Please give each piece a different title, and label artwork on the back if possible.

Please package 3D pieces for shipping (but not taped or sealed), 2D artwork should be kept flat.

If you package and seal your own artwork, you will need to provide NEMAA with a 1:1 image.

We encourage including a business cards with the artwork.
THE DEADLINE TO SUBMIT WORK IS SATURDAY, AUGUST 26, 2023.
Note: Artists who donate by August 12th, 2023 will be eligible to be included in 10×10 promotions.
Free Surfaces
Wet Paint is donating 10×10-inch wood panels and watercolor paper to NEMAA artists creating work for 10×10. Click here to fill out the order form. Wet Paint will fulfill your order within 24 hours, and you must order by August 19, 2023.
Submission Process
NEMAA will accept artwork until Saturday, August 26, 2023.
By Mail (postmarked by 8/26/23):
NEMAA 10×10
Northrup King Building
1500 Jackson St NE, #499
Minneapolis, MN 55413
By In-person Drop-off in the lobby of Northrup King Building:
Wednesday, August 9th, 2023: 5pm—8pm
Saturday, August 12th, 2023: 10am—1pm
Saturday, August 26th, 2023: 10am—1pm
Questions? Read the following FAQs or email nemaa10x10@nemaa.org.
Timeline
June 16, 2023:

NEMAA launches Call for Art for 10×10 and 10×10+. Now accepting mailed submissions.

In-person drop-off dates:

For 10×10 and 10×10+: Wednesday, August 9: 5pm—8pm

For 10×10 and 10×10+: Saturday, August 12: 10am—1pm

For 10×10: Saturday, August 26: 10am—1pm

September 21, 2023 (Thursday):

NEMAA 10×10 Online Art Fundraiser launches. Open for one week.

September 28, 2023 (Thursday):

NEMAA 10×10+ In-person event at Theatre in the Round.

October 2023:

Unsold artwork pick-up on Mondays and Thursdays from 10am—12pm at NEMAA's workspace in Northrup King, #319.
FAQS
How long will the 10×10 shop site be up and items for sale?
We will keep the online shop open for one week. 92% of donated artwork typically sells on the night of the 10×10 launch. Unsold pieces will sort to the top to make finding them easy for art buyers.
Do I have to be a current NEMAA member to participate?
Yes. Interested in joining NEMAA? Check out our member benefits.
Can I donate 3D pieces like sculpture or jewelry?
Yes! It must fit within a 10″x10″x10″ cube. And make sure to package it for shipping (though not taped or sealed).
How many pieces can I donate?
As many as you would like. If every NEMAA artist donated one piece, we would have over 1,200!
Does the work I donate have to be original?
Yes, please. Unless it is a photograph or digital photographic print.
I work larger than 10×10 How can I still participate?
If you usually work larger, one thing we suggest is using several panels to create a larger piece and then separate out the panels. Or cut up a piece into 10×10 sections. It can be fun to see a the elements of a larger piece broken down into vignettes. 
Can I sell prints or copies of the original work I donated to 10×10 in my shop?
Yes, feel free. And it can be priced as you see fit.
Will NEMAA return unsold work?
Unsold artwork can be picked up during the month of October at NEMAA's workroom in the Northrup King Building #319 from 10am—12pm on Mondays and Thursdays.
Do I need to provide a digital image of my piece?
We encourage artists to provide the image; this is ideal for 3D displays and 2D that you want to keep sealed (we have to remove it from its packaging in order to photograph it). If that is the case:
Photograph straight on with a white background. 2D 10″x10″ pieces should go right to the edge. Smaller pieces can have a margin indicating their size relative to a 10″x10″ square.

Format for a 1:1 square jpg sized around 2.5—5MB.

Email the image to

nemaa10x10@nemaa.org

after you have submitted work.
Can I provide more than one image of my piece?
For 2D it is one image per piece. For 3D pieces we can create a small detail shot within the image.
If my piece is sold, will NEMAA share the buyer info with me?
Yes. You will receive an email notification with the buyer's contact info. Send them a thank you card!
How will buyers pick up purchased work?
NEMAA will handle artwork shipping and in person pick-up by providing a paid shipping option or free pick-up at Northrup King Building during specific days and hours after the initial 10×10 launch.
Do I need to be doing something when the shop launches on September 21st?
Please share the 10×10 shop link with your networks and make sure your nemaa.org shop or profile is up-to-date. Watch your email for notifications about possible sales from your own personal shop.