Animation: artworks in a grid, changing out until 10x10 logo is revealed.
NEMAA 10×10
Over 500 original artworks by Northeast artists, all 10×10-inches or smaller! New emerging artists side by side with seasoned professionals, and all available artwork will be initially displayed anonymously and available for purchase for $50 on NEMAA's sleek 10×10 web shop.
All proceeds benefit NEMAA. Discover new artists and take home original art!
Note: All sales are final. Artists of pieces you purchase will receive your contact information.
2022 Artist Challenge: Use Recycled Materials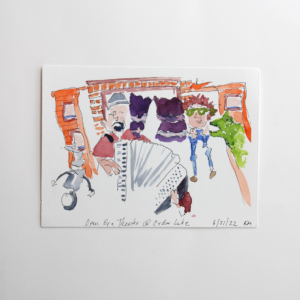 1087 – Open Eye Theatre At Cedar Lake